Overview: Seedr is not bad, completely the opposite. There are some things that Seedr is absolutely amazing in, like video conversions. Unfortunately, its low quality in a lot of other areas and unreliability has made it drop in our ranking.
---
Sections
Torrent Client
Torrent Fetching
Downloading Offline
Cloud Storage
Video Player
Features
Payment Options
Personal Observations
Summary
Torrent Client
New torrents are added by putting torrents to the top bar. Adding is a torrent is fast and without any delay, and the download starts immediately. If a torrent has a low amount of seeds, Seedr wil notify you. Downloading is simple, no extra information about the torrent is provided. There is also no detailed information about torrent seeding which is very important to keep torrents alive.

The private trackers are supported, but only for users with a Pro plan or higher. Users with higher plans can use static IP for private trackers. The smallest premium plan offers only 2 slots for downloading. Other torrents are put in queue. The best plan offers up to 25 torrent slots, but costs almost $20 a month. This plan also offers WebDAV Cloud Drive.
Torrent Fetching
Download speeds are average. Finding seeds is sometimes fast, sometimes slower, it depends on many factors. During our testing, Seedr had a problem with downloading a less known torrent with 50+ seeds. The torrent was not downloaded even within a few days. We were not able to test downloading speeds because they are not provided, only some downloaded torrent are displayed when downloading.
| Torrent size | Type | | | Time |
| --- | --- | --- | --- | --- |
| 701 MB | Public tracker | | | 1 minute 54 seconds |
| 699 MB | Private tracker | | | 4 minutes 33 seconds |
| 5.02 GB | Public tracker | | | 26 minutes 15 seconds |
| 5.01 GB | Private tracker | | | Unsuccessful download |
(Tested on torrents from well-known sources torrent files. Seeders 50+.)
Downloaded torrents are checked by Kaspersky Virus Scan. The reliability of Kaspersky Virus Scan was not tested because it is difficult to find a torrent containing a virus these days.
Downloading Offline
Seedr, for its premium members, provides a technology called Seedr Ultra Download. It is a network of smaller servers located in highly strained locations. Their solution is working OK without any large issues, but the download speed varies. We downloaded a test file of 5gb from our servers located in various locations and the results were slightly above average in the United States and Europe. In Asia, the speeds are super slow. Our servers are connected to the spine network hub and our speeds can be higher than on average home connections.
| Testing file size | USA Chicago | EU Berlin | SG Singapore |
| --- | --- | --- | --- |
| 5.02 GB | ⌀ 143.1 Mbps | ⌀ 154.7 Mbps | ⌀ 57.2 Mbps |
(Tested on VPS servers from OVH connected to spine network, average speeds. Speeds on regular ISP can vary.)
All connections are encrypted and you use up to 8 parallel connections which is especially handy if you are using internet download managers with multi-thread downloading support.
Cloud Storage
Using their online cloud storage is not easy at times. There are glitches just about everywhere. The loading of the files and folders is ok. Basic file management is provided. Files can be deleted, copied, or downloaded. There is no option to rename files or the ability to move them. File search works well, and the files and folders can be sorted by size and time of last change. Unfortunately, the whole cloud storage looks a bit weird, and it is not easy to understand. It is difficult to explain, the best way is to try it yourself.
File management on a desktop computer is ok, but it is much harder on smartphones. There is also a mobile Android app but this is something we did not test.
Video Player
Seedr has the technology to convert videos during video playback. This is very handy, but it does have its limits and it is not well implemented. We were in the middle of a video, but the progress bar for file conversion was at 20% which does not make sense. If the video was not converted past that point, how were we already halfway through?  Very strange. The video player supports HD, subtitles, and Chromecast. It looks like a Youtube player in a retro style.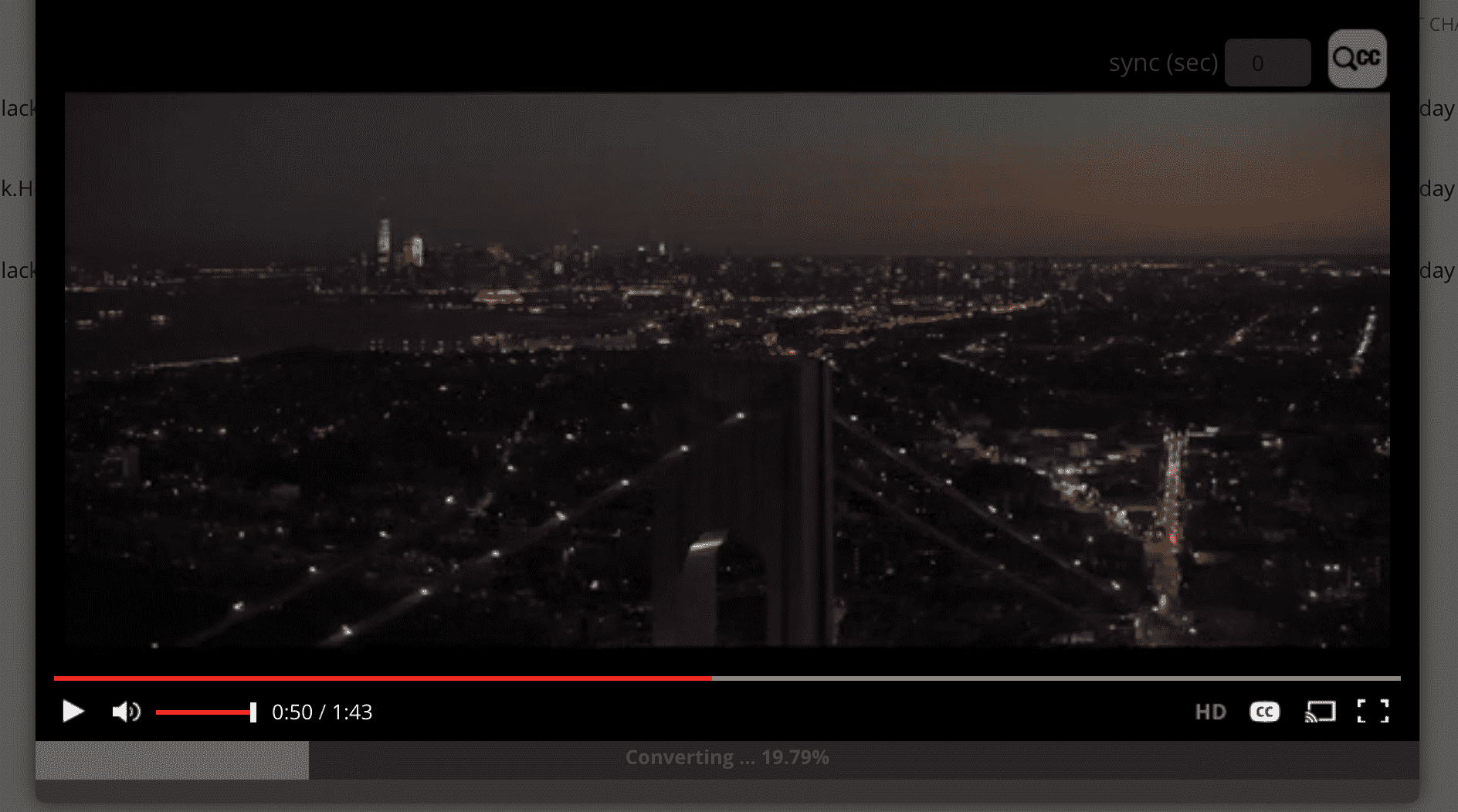 Adding subtitles is not automatic, but Seedr offers an option to upload your own subtitles or search for them in external sources.
Extra Features
Seeder can be used on Apple TV using Airplay or on devices using Chromecast. Kodi tutorial is also provided. The great feature is WebDAV which is better than FTP, but it is not so widely used. Unfortunately, WebDAV is provided only for users only with Master plan. FTP is not provided at all. The downloading for external sources like cyberlockers is not provided. Another good extra feature is Chrome addon which helps you to add torrents to Seedr faster.
Payment Options
There are three payment options. Paypal, payment gate and Bitcoin payment. Paypal is the best solution because it is very secure. The least trustworthy solution is paying by their payment gate because you are not redirected to an actual payment processor. Seedr can save all the information you are entering. All person information needs to be provided.
Personal Observations
Seedr has too many technical glitches for our taste. For example, after downloading a torrent, the folder is shown two times. These small glitches hurt the overall user experience and lower the quality. Using Seedr on the phone is also very difficult; some buttons show off the screen.
Pros & Cons
| Pros | Cons |
| --- | --- |
| Streaming during convertion | Overall quality |
| Good refferal program | Lots of technical glitches |
| | Bad usability |
| | Hard to use on smartphone |